Designatory Letters:
MB Edin 1929, MRCP Edin 1946, FRCP Edin 1950, MD Edin 1952, FRCP Lond 1963, FRCPSG 1964, FRCR 1975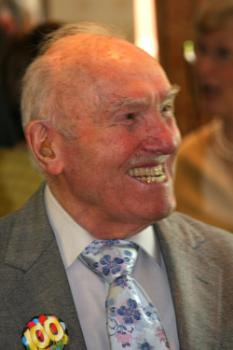 (Contributed by Mr Lindsay Kemp-Harper)
Born in Dundee in 1906 to John Harper and Margaret Kemp he was encouraged to attend university with his brother Hugh, while his sister Winnie was required to stay at home to look after her parents. He achieved success at university as a sportsman in tennis and rugby and graduated in Medicine from Edinburgh University in 1929.
He practised for two years as a GP in Keith, Banffshire before training for his chosen speciality, Radiology, for three years back in Edinburgh Royal Infirmary. Then followed five years in a private specialist x-ray practice in Stoke on Trent, where much of his work was in the five hospitals of the North Staffs region, mostly done on a voluntary and unpaid basis, as was the pre-NHS custom in those days.
In 1939, at the age of only 32, he was appointed to be Director of Radiology at the Glasgow Royal Infirmary, a major teaching hospital. He remained there until 1946, building a reputation as a distinguished consultant. In 1946 he was recruited to a pensionable post as Director of Radiology at St. Bartholomew's Hospital, London. Here he lead one of the best-regarded departments in the field overseeing major technological change and having to fight the system for the resources to maintain pre-eminence. While continuing to read x-rays and prepare diagnoses, he ran the department, oversaw major building works, reviewed equipment and managed the installations. Being a teaching hospital he had responsibility for training and there are Radiologists from all over the world who benefited from his knowledge.
At the end of WW2 he toured the major medical establishments of the Eastern USA for 9 weeks, exchanging expertise with similarly eminent specialists. While at Bart's, he undertook three extensive lecture tours of South Africa, published some 60 articles and wrote a book which became a specialist text book. He contributed to many more academic works in his distinguished career. During this period he acted as a civilian consultant in Radiology to the Royal navy.
His outstanding contribution was recognised in various ways, including eight degrees from Glasgow, Edinburgh and London universities. He was appointed Vice President of the Faculty of Radiology, and was External Examiner to the Royal College of Physicians of Edinburgh. He had the honour to be invited to lecture at the Mayo clinic in Minnesota, USA, one of the most highly regarded medical schools in the USA. In his semi-retirement, he was asked to set up an x-ray department in a new hospital in Tehran, but declined.
In 1991 he was accepted as the "Oldest Probationer" on record at Chester Golf Club, aged 85, where he played for a further 10 years before having to give up. At that time he was given honorary life membership. The 100th Birthday celebrations took place on and around 25th May 2006, with parties and visitors offering congratulations for many weeks, including a card from the Queen. Of special mention were the celebrations at Probus and the presentation of a plaque representing the 100 years of his life.
Soon after his 101st birthday the Renault Megane sports car was given up in favour of a three- wheeled scooter, with much regret. The sporting activities continued at home where an exercise bicycle was used frequently. Much entertaining continued and until recently he liked nothing better than to invite friends out for a meal, chin wag and have a dram of the amber nectar. He will be long remembered for his interest in the lives of those around him and his positive and happy view of life.
In his 103rd year he suffered some falls at home in Chester and moved to a nursing home in Malvern close to his only son, Lindsay. On 27th October 2009, following a visit from Lindsay he died peacefully at 2.00pm.
The quality of his life had been exceptional throughout his 103 years and we thank God for his life. His family of one son, 2 grandsons and 3 great grandchildren, colleagues and friends will sorely miss him.