Designatory Letters:
MB Mysore 1954, DTM&H 1960, MRCP Edin 1966, FRCP Edin 1994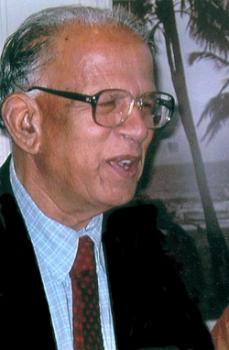 (Contributed by his daughter)
My father, Ramji, is fondly remembered by friends and family as always smiling, kindly, and generous. My parents have helped many friends and relatives in need, funding relatives' children for professional education; sponsoring them for professional study and work in England. His few hobbies included socialising - our house always open to, and full of, people coming and going - visitors, parties, religious festivals or a weekend family get-together. He enjoyed travelling, at home and abroad - especially loving Scotland. A completely fanatical follower of Cricket, - taking leave to watch live televised test matches! Classical music, South Indian. Karnatic and European, were his favourite.
A consummate and caring professional he treated the whole person. A very "Hands On" practitioner taking time looking at and listening to his patient. Practising Holistic medicine long before its recent implementation as standard practice. His warm bedside manner endeared him to all his patients; and, he treated his junior and other professional and non-professional colleagues as equals during a time when unfortunately there was great inequality between various staff groups.
Arriving from South India in 1958 intending to stay only a couple years, get more experience and return to his beloved Banaglore, he ended up staying for over 50 years. He tried to return to India to live and practice, but was disillusioned. As a new Consultant Geriatrician Ramji was instrumental in the renovation and reconfiguration of the Care of the Elderly Unit at Moorgate Hospital, Rotherham (Now Rotherham Moorgate General Hospital) in the early 1970's, and as a Senior Consultant, at St.Tydfil's Hospital in Merthyr Tydfil in the 1980's - which had reputations among the older population that, "if you went in, you never came out again except in a coffin!". Again, a pioneer, he brought together the facilities and staff of the Care of the Elderly Acute and Long Stay units with the Social Service, Physiotherapy and Occupational Therapy units to work as a Multi Disciplinary Team (again standard practice now, but before it's time then). A loving family man, friend and consummate professional.