Specialty:
Respiratory/Thoracic Medicine
Designatory Letters:
MB Melbourne 1946, MRCP Edin 1959, FRCP Edin 1972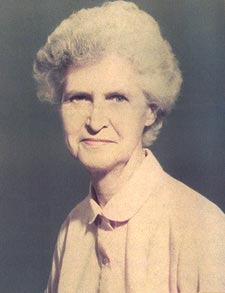 (Based on information supplied by friends and colleagues in Australia)
When asked why she had become a doctor Dr Elder once replied " I wanted to prove that I could do something very difficult and also worthwhile. I really felt I wanted to justify my existence especially during the war when so many people were away fighting." She had scarcely finished her residencies at Launceton General Hospital in Australia when she contracted tuberculosis. For the next five years she worked for less than three months, treated with streptomycin and pneumothorax. She had refills of her pneumothorax until 1956.
She then came to the UK, gaining her MRCP Edin. and working in TB sanatoria in Scotland and Wales. She found it difficult to get employment in other hospitals because of her health record. In 1959, keen to continue in chest medicine but not exclusively in tuberculosis she accepted a post in Perth Chest Hospital, West Australia but within months was found to be TB positive yet again. For the next 18 months she was bed-bound, receiving PAS and INAH and then lived in the hospital, working when she was fit to, until 1965 when she moved into her first house.
Her first consultantship was in 1961, characterised like all her work by deep concern for patients as people, her commitment to caring for every aspect of their suffering and, of course, her deep understanding of what is like to be a "patient". As she often told people it was perhaps easier to do that in a hospital such as hers where there was no emergency department, no acute admissions and no pressure to achieve high patient throughput. It also gave her the opportunity which she eagerly grasped to record the picture of mesothelioma and cystic fibrosis in Western Australia, work that eventually became the Western Australia Mesothelioma Register.
She retired in 1981 and for the next five years became deeply involved in a community hospice / palliative care service. A devoted and dedicated church worker she also pioneered a welfare agency called Southcare which is still caring for, and providing advocacy for, the disadvantaged families in the suburbs of Perth. Some would say belatedly, but to the delight of her many friends and the countless people she had served, she was awarded membership of the Order of Australia (AM) in 1997.
Physically frail and intellectually intact in her final years she fell and sustained a fractured femur following by post-operative pneumonia. Typically she said she had had enough and wanted no life-sustaining treatment and died a few days later.