Designatory Letters:
MB Sri Lanka 1946, MRCP Edin 1956, MD Sri Lanka 1957, FRCP Edin 1972, FSLCP 1990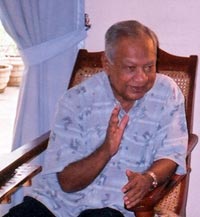 (Contributed by his daughter)
Dr Hugh Terence Wickremasinghe Jayasekara graduated with honours from the University of Ceylon in 1946. After training posts in Sri Lanka he went to the UK gaining his MRCP UK in 1956 and two years later when he returned home, his MD Sri Lanka. In 1972 he became FRCPEd. and in 1990 a Fellow of the Sri Lankan College of Physicians.
Between 1975 and 1985 he worked as a consultant in the UK and even after his retirement did honorary work. He wore the tie of the Royal College of Physicians of Edinburgh with pride.
No matter how busy he was he always found time for his family who remember him with pride and gratitude.