Designatory Letters:
MB Durham 1957, MRCP Edin 1963, DTM&H, FRCP Edin 1982, FWCP, FCP SA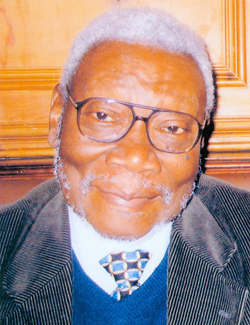 Egerton Maximilliano Fashole Luke, eldest son of Sir Emile and Lady Sarah, born on 30th May 1930, passed away on 24th September 2010 in Freetown, Sierra Leone.
During school-days, he was renowned for riding everywhere at top-speed on a bicycle without brakes. In youth was a keen sportsman, particularly enjoying football; being nick-named "winter goalie", for donning a turtle-neck to play.
Challenged by his mother, Egerton entered medical school in 1952. The first Sierra Leonean admitted to the Royal College of Physicians, Edinburgh, by examination in 1963, he returned home shortly afterwards, joining the government medical-service. His first major assignment was up-grading the Eastern Province to a specialist station. Responsibilities included re-organising and up-grading all district primary healthcare-clinics and supporting services; setting-up new under-fives clinics; staff-training; and importantly, liaising with chiefs. Similar work continued when transferred to the Southern Province.
Egerton relished the challenge of front-line, hands-on consultant-teaching when transferred on promotion to the main-referral Connaught Hospital, Freetown. Eschewing private-practice he treated all earning the reputation of "that doctor who doesn't take money".
Presidency of the West African College of Physicians (WACP), 1999-2000, climaxed his medical career. His goals (fulfilled within his lifetime) were, commencement of reciprocity-negotiations with Edinburgh (his Alma Mater); engagement in harmonization-discussions with sub-regional Francophone physicians' associations towards full WACP membership; computerization of WACP affairs; establishment of a prize in psychiatry.
Popular, humorous, well-respected, passionate about life, he was always principled. Supported by wife Elizabeth, their three sons and daughter, Egerton made medicine his service and calling.