Specialty:
Infectious/Communicable Diseases
Designatory Letters:
TQ 1943, DPH Edin 1946, MRCP Edin 1951, Fellowship 1962, Hon LLD Alberta 1985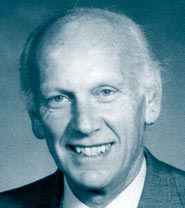 (Contributed by his daughter Linda)
Dr Bernard Snell, OC MD FRCP (Ed) DPH FACHA, died peacefully at home in his sleep in his 85th year on Tuesday April 13 2004. Beloved husband of Edna (nee Altaras) for 54 years, and much loved father of Linda and Lauren.
Born: in Glasgow, Scotland August 1, 1919, he was educated at the University of Edinburgh. He served as a Senior Surgeon in the British Merchant Service 1944-46 and Squadron Leader RCAF Auxiliary (Medical Service) 1959-65.
He was a distinguished member of the medical profession. He worked as a physician in Hove and Sheffield, England, before emigrating to Canada in 1957 to become the Assistant Medical Superintendent of the University of Alberta Hospital. He served as President of the University of Alberta Hospitals from 1966 until his retirement in 1984. He dreamed of building an outstanding teaching hospital in Edmonton and was instrumental in realizing that dream with the construction of the Walter Mackenzie Health Sciences Centre. This Centre continues to be a world leader in medical care and health scholarship.
He was a Clinical Professor in the Department of Health Administration at the University of Alberta where he inspired students and colleagues.
He not only gave selflessly to the medical community but to the community at large: serving on the boards of the United Way, the Edmonton Art Gallery and the Alberta Rhodes Selection Committee, amongst others.
For his distinguished career as a health administrator, educator and leader, Dr. Snell was appointed to the Order of Canada in 1997 and received the Queen's Golden Jubilee Medal in 2002. His other honours include the Alberta Order of Excellence and an honorary Doctor of Laws from the University of Alberta
Bernard will be remembered for his sense of humour, quick intelligence and engaging and lively mind. He had a love of language, read avidly and enjoyed debate and discussion. He was a kind, caring and loyal husband, father and friend.