Specialty:
General Internal Medicine, Special Interest Diabetes
Designatory Letters:
MB Belf 1972, D Obst RCOG 1974, DCH Irel 1974, MD Belf 1981, FRCP Edin 1989, FRCP London 1992, FRCP Ireland 1997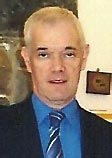 (Contributed by his wife, Joan Blair)
Trevor Blair died on 29 June 2009. Born in Ballyclare Co Antrim, he attended Ballyclare High School and studied Medicine at Queen's University Belfast. He trained in General Medicine and showed an early interest in Diabetes and Endocrinology which formed the basis of his MD Thesis. He was appointed Consultant Physician in General Medicine in Tyrone County Hospital Omagh in 1981. The challenge of working as a rural physician in those days meant that his patients ranged from childhood to old age.
Trevor's vision for the future of diabetes care for adults and children was reflected in his tireless pursuit of excellence. He was instrumental in the appointment of the first Diabetes Liaison Nurse Specialist in the Western Health & Social Services Board. His ambition to provide a holistic approach to diabetes care was realised by a purpose built multidisciplinary Diabetes Centre which was opened to his great pride in 2002 at Tyrone County Hospital, Omagh.
He participated in ongoing diabetes related research and as Northern Ireland representative was responsible for the local introduction for the now widely used Diamond computerised record system for diabetes.
Throughout his career Trevor was an active Fellow of the Edinburgh College, and regularly examined for the RCPEd and RCPI Membership examinations.
Trevor found time for many outside interests. He was a keen musician and linguist and had a special place in his heart for wildlife and outdoor pursuits. His love of horses led him to serve on the Medical Equestrian Association. He was an unassuming, caring man of great intellect who had a mischievous sense of humour. He is greatly missed by his family, colleagues, friends and patients.
Trevor is survived by his wife Joan and daughters Gillian, Helen and Andrea.