Specialty:
General Internal Medicine (with an interest in haematology)
Designatory Letters:
MB ChB (Aberdeen) 1948, MRCP (Edin) 1954, FRCP (Edin) 1994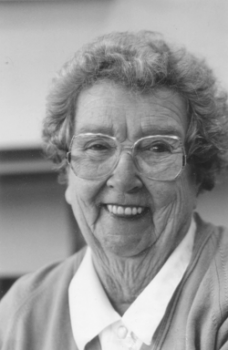 Having been educated at Aberdeen High School for Girls, where she was the outstanding pupil of her year and Dux (1942-43), Doris Manson entered University of Aberdeen, not to study Mathematics as advised by her Headmistress and other teachers, but to study Medicine, on which she had set her heart.  She graduated MB ChB in 1948 with Commendation.  Her first appointment was at St Leonard's Hospital in London where she acquired many practical skills, particularly in dealing with accidents and emergencies, and gained a fine reputation as a diagnostician. 
On returning to Aberdeen, she joined the University Department of Medicine as Assistant to Professor Harold Fullerton, whose haematological laboratory also provided critical support for the Royal Infirmary.  Doris gained Membership of the Royal College of Physicians, Edinburgh in 1954 and was appointed Lecturer in Medicine, with honorary Senior Registrar status in Aberdeen Royal Infirmary.  As well as teaching medical students and nurses and, in addition to routine ward work, Dr Manson was for many years largely responsible for that hospital's haematological diagnostic service, offered by the Department of Medicine. On marriage, she had to relinquish these positions because it was then not permitted for a married woman to be a full-time member of staff with clinical duties.  After her children reached school age, she worked part-time in geriatric medicine in Woodend Hospital, Aberdeen and assisted Professor James Philip in his cancer research at the Royal Infirmary. 
Since her organisational skills were widely recognised by other healthcare professionals in Aberdeen, Doris found herself in advisory and administrative roles for several groups, principally the Friends of Morningfield Hospital (for the chronically ill and for which she served in various capacities for 30 years) and the city's Local Area Health Council.  In recognition of Doris's services to the medical profession in Aberdeen, the Royal College of Physicians, Edinburgh honoured her with a Fellowship in 1994.
After an unexpected, incapacitating short illness, Doris died peacefully in Aberdeen Royal Infirmary on 13th March, 2015.  She is survived by her husband, Dr Gordon Lees, their son, Timothy and daughter, Clare.