Specialty:
General Practice/Primary Care
Designatory Letters:
MBBS Calcutta 1955, DTM&H Liverpool 1958, MRCP Edin 1963, FRCP Edin 1994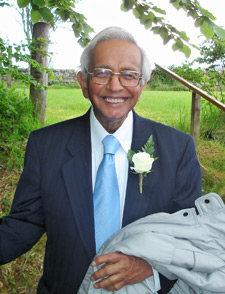 (Contributed by Philip & Robin Banerjee)
Dr Binayendra Banerjee, who served as a family doctor in Glossop for almost 30 years, passed away at the beginning of August 2007.
He was born in Mymensingh, India in 1932 and spent all of his childhood in Rangpur in what is now Bangladesh. The family had to move to Calcutta when India was sadly partitioned in 1947. It was a major upheaval for the family at that time, but none of this stopped him reaching his goals in life.
He studied at R.G. Kar Medical School in Calcutta where he excelled as a brilliant scholar receiving numerous medals and awards on the way to him graduating as a qualified doctor. He arrived in Britain in December 1957 he attended medical colleges in Liverpool and Edinburgh, where later in life he would be awarded with Fellowship status of the Royal College of Physicians.
He worked very hard to establish himself as a Doctor, whilst at the same time he sent money back to India to his family, as so many people from the Indian subcontinent do.
He served in several NHS institutions throughout the British Isles:
Merthyr Tydfil, South Wales,
Bedford General Hospital
West Middlesex Hospital, London,
Worsley Hospital, Stourbridge
Batley, West Yorkshire
Otley General Hospital, West Yorkshire
Lodge Moor Hospital, Sheffield
Many Glossopians will know that he had a successful medical career as a General Practitioner, and that he served as a family doctor in Glossop for almost 30 years, having arrived in Glossop in 1971. He enjoyed a long, happy and successful partnership with two other highly respected Doctors, Hasnain and Armour, in the Howard Street Group Practice Centre, Glossop.
He was always most comfortable and happy being a loyal and hard-working servant of the community, travelling to reach patients in all extremes of weather and often through the night. Perhaps it was the hardiness, resilience and mental strength of his childhood that held him in such good stead.
His time as a family doctor ended in October 2000 and he was touched by the cards, presents and messages of good will and thanks given by staff and patients on his leaving his Glossop group practice. He had served his community with all his expertise, dedication and to this day, he remains highly respected and well thought of in Glossop. He was well known for his professionalism and commitment to his work and his family are particularly proud of the work and service he gave to the community and surrounding areas.
Even when he had finished as a family doctor, he continued to do on-call work, often at unsociable hours in Manchester and even as far a field as Widnes and Merseyside. Indeed, his work was always his main pleasure and besides his availability and willingness to work, he would also make so many good, kind-hearted friends along the way.
A kind, true gentleman and a devoted family man, his interests included gardening, reading and following most sports: particularly football, athletics and cricket. He also loved visiting family and friends in India, and immersing himself in Bengali culture.
He is survived by his ex-wife, Marjorie and his sons Philip and Robin Banerjee.