Specialty:
General Internal Medicine (and Gastro-Intestinal diseases)
Designatory Letters:
MB Glasg 1953, MRCP Edin 1962, MRCP Glasg 1959, MRCP Lond 1969, FRCP Lond 1977, FRCPS Glasg 1988, FRCP Edin 1981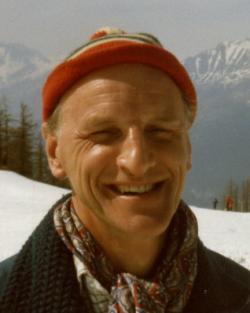 Donald Kinloch was born in Dalmellington, Ayrshire, where his father was the minister, later moving to a charge in Port Glasgow. During the war years he became a boarder at The Leys school, then evacuated to Pitlochry: he thrived with the freedom of an outdoor life, exploring the hills and countryside, and absorbing much about the wildlife of the area. He accompanied the school back to Cambridge for his last years there.
He studied medicine at Glasgow University, graduating MB ChB in 1953. While a student, he spent much of his free time with the University Mountaineering Club, exploring the Scottish hills in summer and winter, a love which never left him. Resident house positions in Glasgow were followed by National Service in the RAMC, when he was posted to Cyprus as Medical Officer to a parachute unit. During this time his experience enabled him to take part in a small four-man Army expedition to the Mount McKinley region of Alaska, which succeeded in ascending several hitherto unclimbed peaks. For over six weeks, twice as long as in any previous studies, Donald and his colleagues took part in a nutritional research project, involving the keeping of careful records, often at high altitude and in adverse weather conditions, measuring daily food and fluid intake, activities, and weights. After comparison with earlier studies, he outlined the principles of provisioning a small expedition, and described the make-up of a suitable ration. (British Journal of Nutrition, 1959, 13, No 1, p.85). An account of the expedition was published later in a book by the leader, Captain Mills. (Airborne to the Mountains, James Mills, 1961, Herbert Jenkins Ltd).
His medical training in his early years included junior posts at Yorkhill Sick Childrens' Hospital, and Belvidere Infectious Diseases Hospital. He was a registrar at Glasgow Royal Infirmary, gaining experience in diabetes and endocrinology with Dr James Imrie, and haematology with Professor Davis. Next came a move to the Nuffield Department of Medicine at Oxford, with Professor Witts, before moving back north to a senior registrar post at the Western General Hospital, Edinburgh, where he worked in endocrinology with Professor Strong, and in the ground-breaking combined medical and surgical gastro-intestinal unit with Dr Sircus and Dr Card.
In 1968 he was appointed Consultant Physician, with gastro-intestinal specialism, at Chase Farm Hospital, Enfield. Here, he painstakingly negotiated the modification of premises in a former orthopaedic ward in an old part of the hospital, for use as an endoscopy unit, until a modern properly equipped multi-disciplinary Day Care Centre for all investigative and therapeutic fibre-optic procedures could be provided, with a team of dedicated medical and nursing staff, with himself at the head.
He edited the hospital postgraduate centre journal; he formed important links with various centres of excellence in postgraduate hospitals in London and was a founder member of the North London Gut Club. He wrote a number of papers, on subjects ranging from gastric ulcers and jejunal biopsy to macrocytic anaemias. He retired in 1995. He was a Fellow of the Royal Colleges of Physicians of Edinburgh, Glasgow and London; and a principled supporter of the NHS.
In 2002 he suffered a heart attack, followed by a stroke with dense hemiplegia. Bit by bit, with the loyal help of his wife Avril, he stubbornly rehabilitated himself to a remarkable degree, despite severe continuing disability: an example and inspiration to others, both with and without this handicap. He continued to lead life to the full, learning to drive again, taking up curling, and continuing to play chess. He returned to Scotland in 2009. His health deteriorated in the last few months of his life, and he died on 10th August 2014.
A further obituary has been published in the BMJ - http://www.bmj.com/content/349/bmj.g5995
Contributed by H.P. Dinwoodie