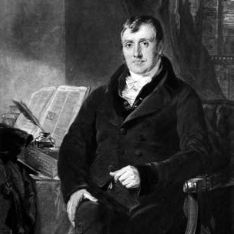 (15 March 1765 – 11 October 1846)
Biography
John Thomas was born at Paisley on 15 March 1765 to Joseph Thomas, a silk weaver, to whom he was apprenticed at the age of eleven for seven years. Thomson, however, wished to study medicine and in 1785 apprenticed with Dr White of Paisley. In 1788, Thomson entered the University of Glasgow and moved to Edinburgh the following year. He was appointed assistant apothecary at the Royal Infirmary in September 1790 and became house surgeon a year later. Thomson became a member of the Medical Society in 1790 and the following year was elected one of its presidents. In 1792, he moved to London where he studied anatomy at John Hunter's school of medicine.
In London, Thomson made many valuable contacts before returning to Edinburgh in 1793. He married Margaret Crawford that same year, though only one of their three children together survived. Also in 1793, Thomson became a surgeon at the Royal Infirmary. From 1799 to 1800 Thomson's interest in chemistry led him to conduct classes at his house, at which he made the acquaintance of the Earl of Lauderdale. In 1800 he began teaching surgery at the Royal Infirmary as well as lecturing on the nature and treatment of injuries and disease familiar to military surgeons.
In 1804, the College of Surgeons of Edinburgh established a professorship of surgery and Thomson was the first to be appointed to this post. In 1806 he was appointed regius professor of military surgery at the University of Edinburgh. Thomson's first wife died in 1804 and in 1806 he remarried. Two of their children survived to adulthood. Thomson obtained his MD from the University and King's College of Aberdeen in 1808. In 1814 Thomson travelled around Europe to various medical schools to examine the different methods employed. In 1815, he was instrumental in the founding of Edinburgh's New Town Dispensary.
Thomson's classes on military surgery were incredibly popular and by this period he had reached the peak of his career. However, Thomson began to contemplate becoming a physician. Thomson studied smallpox and lectured on the diseases of the eye in 1819 and was instrumental in founding the first eye infirmary in Edinburgh in 1824. From 1822 to 1826 he studied general pathology. In 1832 Thomson was appointed professor of general pathology at the University of Edinburgh.
After 1835, repeated bouts of illness caused Thomson to suspend his practice and resign his professorship in 1841. He died in his home in Edinburgh on 11 October 1846. He was spoken of as one of the most learned physicians in Scotland of his time.
Notable Achievements
Thomson became a fellow of the Royal College of Surgeons of Edinburgh in 1793.
In 1806 George III made Thomson the first Professor of Military Surgery.
From 1834 to 1836 Thomson was President of the Royal College of Physicians of Edinburgh.
Key Publications
•    Elements of Chemistry and Natural History (1798-1800)
•    Observations on Lithotomy, with a New Manner of Cutting for the Stone (1808; with appendix, 1810)
•    Lectures on Inflammation: a View of the General Doctrines of Medical Surgery (1813)