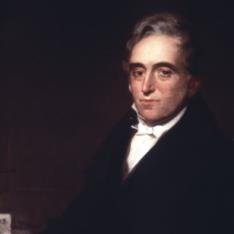 (10 October 1780 – 14 November 1844)
Biography
John Abercrombie was born on 10 October 1780 in Aberdeen where his father was a parish minister and held considerable influence on his religious and moral upbringing. In 1800, Abercrombie attended Edinburgh University to study medicine and obtained his MD in 1803. He studied a further six months at St George's Hospital in London and upon his return to Edinburgh became a Fellow of the Royal College of Surgeons of Edinburgh. Almost immediately, Abercrombie established a private practice, which rapidly became incredibly popular.
Abercrombie devoted much of his time to the poor of Edinburgh, despite having a booming private practice. He was one of the medical officers at the Royal Public Dispensary and subdivided the poorer areas of Edinburgh into districts and allotted them different students.  In 1808, Abercrombie married the wealthy daughter of a manufacturer and together they had seven daughters. His wife's wealth enabled Abercrombie to reduce his time in academia. In 1815 the New Town Dispensary was opened in Thistle Street and Abercrombie was appointed senior surgeon.
Abercrombie went on to become the leading physician of his day in Edinburgh, establishing a name for himself and becoming the king's physician in Scotland. Abercrombie was medical advisor and close friend to Sir Walter Scott. The University of Oxford conferred on him the award of the honorary degree of MD.
In the last decade of his life, Abercrombie shifted his focus towards philosophical and religious topics rather than medical. Abercrombie wrote a number of essays which were compiled into a volume called Elements of Sacred Truth, which sold very well. Abercrombie became known for the intellectual and moral nature of man. He gradually immersed himself into Bible study and in 1840 left the established church. Abercrombie donated widely to Edinburgh charities and societies. He was a regular member of the Royal College of Physicians of Edinburgh and became vice-president of the Royal Society of Edinburgh. He suffered from a stroke and died suddenly at his home on 14 November 1844. After his death in 1844 his family presented his library of over 900 books to the Royal College of Surgeons of Edinburgh, while his extensive papers were donated to the library of the Royal College of Physicians of Edinburgh.
Notable Achievements
Abercrombie became a fellow of the Royal College of Physicians of Edinburgh in 1824.
In 1828, Abercrombie was appointed king's physician in Scotland.
Key Publications
Pathological and Practical Researches on Diseases of the Brain and Spinal Cord (1828)
Diseases of the Stomach, Intestinal Canal, the Liver and the other Viscera of the Abdomen (1828)
The Intellectual Powers and the Investigation of Truth (1830)
The Philosophy of Moral Feelings (1835)
Elements of Sacred Truth (1844)