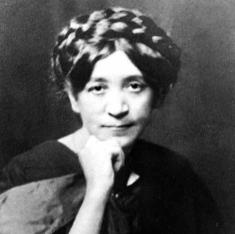 (1 December 1876 – 27 May 1963)
Biography
Isabella Pringle was born in Edinburgh on 1 December 1876. She grew up in Morningside and her mother, widowed some years earlier, was listed as the head of the family in the 1891 census.
After several years in a range of academic secretarial jobs Pringle attended classes at Edinburgh University and graduated MBChB in 1909 at the age of 33. After her residency she travelled to Manchuria to work as a medical missionary until 1916. A combination of ill health and her developing special interest in Scottish maternity and child welfare led her to take on further residencies - at the Royal Infirmary of Edinburgh and the Royal Hospital for Sick Children. She then passed the Scottish DPH examinations and moved to Paisley, becoming responsible for the new maternity and child welfare scheme. Under her leadership this became one of the most comprehensive of its kind in Scotland, fully two decades before the inception of the NHS.
The Royal College of Physicians of Edinburgh debated the role of women in medicine in their quarterly meeting in November 1918. Efforts to acknowledge and support women doctors were incorporated into a supplementary charter in January 1920. Subsequently, Pringle completed her MD in 1921 and, in 1925, passed the membership examination. She then moved to Edinburgh to become senior assistant medical officer in the maternity and child-welfare service of the City Corporation. Her colleague and mentor was Dr T Y Finlay. The partnership of these two committed doctors ensured steady development and improving services in the city. Pringle became a Fellow of the Edinburgh College in 1929, the first woman to receive this honour.
Isabella Pringle died on 27 May 1963 in Chalmers Crescent, Edinburgh. She never married but, as a colleague pointed out, 'Dr Ella Pringle was one of that devoted group of lady doctors in this country who pioneered and gave their all for the furtherance of maternal and child health'.
Notable Achievements
In 1929, Pringle became the first female fellow of the Royal College of Physicians of Edinburgh.