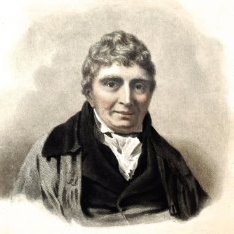 (17 October 1744 – 5 July 1828)
Biography
Andrew Duncan was born near St Andrews on 17 October 1744, son of Andrew Duncan, a merchant and shipmaster. Duncan attended St Andrews University where he received an MA in 1762 before entering Edinburgh University as a medical student. Duncan completed his studies in 1768 and went to China as a surgeon on an East India Company ship. Upon returning home, Duncan pursued a career as a university lecturer. He graduated MD from St Andrews in 1769 and in 1770 became a licentiate of the College of Physicians of Edinburgh. Also in 1770, Duncan married Mary Knox, daughter of John Knox, a surgeon, and together they had twelve children.
Duncan lectured on medicine at Edinburgh from 1774 to 1776, although he was not elected professor. So, Duncan began to give extra-mural courses on the theory and practice of medicine, which led him to found a public dispensary. In this period, Duncan amassed many useful contacts through his supper clubs, which proved to be useful in his publication of Medical and Philosophical Commentaries, a quarterly journal of medicine, begun in 1773. It was the first medical review journal published regularly in Great Britain.
By the 1790s, Duncan was chair of the theory of institutes of medicine although Duncan taught it to suit his own interests. In 1795 he began teaching a course in medical jurisprudence and medical police. By 1807, a chair in medical jurisprudence was established at Edinburgh University and Andrew Duncan the younger was the first professor.
Duncan continued to promote new institutions in Edinburgh. In 1792 he proposed the erection of a public lunatic asylum, finally built in 1807 at Morningside. He also helped establish multiple societies. He was an industrious lecturer and avidly promoted continental models when proposing new institutions. Duncan was not insular and did much to promote unity between physicians and surgeons in Edinburgh.
Duncan died on 5 July 1828. He bequeathed to the College of Physicians seventy volumes of manuscript notes from the lectures of the founders of the Edinburgh school of medicine, and a hundred volumes of practical observations on medicine in his own handwriting.
Notable Achievements
Duncan founded a public dispensary, which would later become the Royal Public Dispensary, incorporated by royal charter in 1818.
In 1773 Duncan founded the Aesculapian Club.
In 1782 he founded the Harveian Club, in order to promote friendship between members of the College of Physicians and the College of Surgeons.
Duncan was president of the College from 1790 to 1792.
In 1809 he founded the Caledonian Horticultural Society.
In 1821, Duncan became the first physician to the king in Scotland.
Also in 1821, he was elected president of the Edinburgh Medico-Chirurgical Society at its foundation.
Duncan was again president of the Royal College of Physicians of Edinburgh from 1824 to 1825.
Key Publications
Elements of Therapeutics (1770)
Medical Cases (1778)
The New Dispensatory (1786, 1789, 1791)
Observations on the Distinguishing Symptoms of three different Species of Pulmonary consumption (1813)