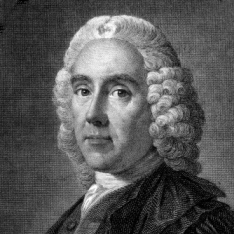 (19 September 1697 – 10 July 1767)
Biography
Alexander Monro, the only surviving child of John Monro, army surgeon, was born in London. The Monros settled in Edinburgh when Alexander was three and John went to great lengths to ensure his son's education. Monro attended the University of Edinburgh from 1710-1713 but did not obtain a degree. He went on to apprentice for his father, whose ambition for Alexander was to create a medical school based on Leiden. In 1717, Monro travelled to London where he attended natural philosophy and anatomy lectures. From London, Monro went on to Paris in the spring of 1718, where he attended various courses at the Jardin du Roi and the Hotel-Dieu. In November 1718 Monro enrolled as a medical student at the University of Leiden, where he remained for another year, studying chemistry and clinical medicine with Herman Boerhaave.
Monro returned to Edinburgh in September 1719 and quickly passed examinations for the admission to the Incorporation of Surgeons. In 1720 Monro was appointed Professor of Anatomy. His lectures were very popular with students and were unusually delivered in the vernacular as opposed to the usual Latin. Large numbers of students were attracted to Monro's lectures, causing a shortage of cadavers for dissection. Upon Monro's petitioning, the chair of anatomy was removed from the Incorporation of Surgeons and became a part of the University of Edinburgh.  
Monro achieved his MD in January 1756, "on the narrative of his past Services." Also in 1756, Monro obtained his license to practice from the Royal College of Physicians of Edinburgh and became a fellow in that same year. In 1757, Monro was entitled to attend as a physician in the Royal Infirmary. In 1758, Monro handed over all his teaching obligations to his son, Alexander Monro secundus.
On 3 January 1725, Monro married Isabella Macdonald and together they had four surviving children. Monro was unusually industrious and conscientious in his teaching. He wrote frequent and lengthy commentaries on authoritative published works. From 1750 until his death, Monro lived in a house on Covenant Close, off the High Street of Edinburgh. In 1757 he was appointed an extraordinary director of the Bank of Scotland. Monro died in his home on 10 July 1767 and is buried in Greyfriars Kirkyard.
Notable Achievements
In 1722, Monro was granted a lifetime professorship appointment.
In 1723, Monro was elected fellow of the Royal Society of London.
In 1725, Monro was formally inaugurated as a university professor.
In 1729, Monro established what would later become the Edinburgh Infirmary.
In 1731, Monro helped found the Society for the Improvement of Medical Knowledge (precursor of the Royal Society of Edinburgh)
Key Publications
De Origine et Utilitate Anatomiae (1725)
The Anatomy of the Human Bones (1726)
Medical Essays and Observations (1732-44)
An Account of the Inoculation of Small Pox in Scotland (1764)